Video Testimonials
---
Written Testimonials
Rupesh Varadkar
AGM - Human Resources
(Vasundhara) is a person who goes in-depth & understands the mind of an individual. During her Training sessions she becomes an integral part of the trainees, in the form of her behavior, language, tone,understanding. Thus creating the aura & giving the best output for an organization & the individual goals.
Manasi Kambli
Senior marketing manager at Business Standard Ltd
Working with Vasundhara Jakka has been a pleasant experience. She keeps the participants involved with her enthusiasm and gets the message across in a friendly manner. Her connect is her strong suit, I surely recommend her for training workshops in companies as well as in open forums

Santosh Thorat
Regional Manager at Binary Semantics Limited
Deep and detailed knowledge of the subjects, very innovative and out-of-the box ideas and implementations. I am sure that the organizations must be experiencing positive impact after availing training programs from Vasudha.
Amit Banage
Vidya NGO Consultant
Respected Vasundhara ji, No words to express gratitude for coming all the way to Banganga and conducting sessions for BY. kids. The students have rightly mentioned your sessions, as the best of all. I am extremely sorry for not able to attend the same. Looking forward for more such interactive workshops, in the next academic year. A new Center in Mulund has been recently started. Would be great if you could come and bless the students with your mesmerizing workshop, in near future.
Rama Kulkarni
HR-Rasoi Magic - Pune
I simply loved the session Durga, I found my Durga within and would want to attend all future sessions of Vasundhara mam.
Bhawana Shukla
Head HR-Puratos India Ltd.
Vasundhara brings out best participation from all the participants and her sessions are always super hit.

Shailja Nupur
Head Human Resources, Fortis Healthcare Kalyan
Vasundhara is gifted when it comes to holding and captivating her audience. This was very evident in the recent training that I held at our facility. Success Sutra the new arrow in quiver is an amazing program. it is a holistic workshop and a fun learn program. the training derives the concepts from of seven habits of highly efficient people and translates it into a activities that can be adaptable into day to day professional and personal life. The session will give insight into some important life changing secrets like power of your thoughts, prioritizing, goal setting, planning and many more. As the workshop progresses it will take you to a roller-coaster ride of emotional highs and lows and moments of truths. The activities planned around the concepts are entertaining and there is not a moment of monotony through the workshop. It was a beautiful kaleidoscope of principals and activities blended beautifully to provide an insight into personal and professional growth. It gives the participants a wow factor, and at the end of the session we are a enlightened lot. Highly recommended for aspiring managers and dynamic organizations
Rajendra Dhulla
President at ROTARY Club of Mulund
We had invited Vasundhara Jakka to give us a talk at Rotary Club of Mulund and believe me she held all members, spouses and children in her magical spell of words and positiveness & her knowledge. She shared her knowledge in a flow which was very easy to understand even for a 70 years youngs members & Teenagers, Male or female. Very Crisp, sharp & to the point. In a short span of time she conveyed the message with lot of tips to help all members across various Age Groups. Infact i got lot of "appreciation" for inviting such a good speaker :-). Thank you Vasundhara for your honorary effort & i will surely be the 1st to recommend you for your speciality area of work.
Vasanti Raman
Regulatory Affairs at Allergan
Vasundhara is a woman of remarkable talent. Her dedication towards her training endeavors is exemplary. Vasundhara is very passionate when it comes to training her students, be it at the college level or corporate. She ensures that she delivers over and beyond the scope of the program, enriching the students with valuable take homes, enabling them to hone their skill sets, expand and grow. A true asset, an excellent trainer / educator/ communicator. I highly recommend Vasundhara for all your training needs.
Abhishek Tripathi
Digital Marketing Expert
Vasundhara is a dynamic trainer who holds the audience well and participants open up easily for interaction and thereby bonding with fellow workers.. Cheers!!
Deepa Shetiya
Center Manager at Vidya
Vasundhara Jakka took a remarkable workshop on Life-skills in my centre. She was very well versed with her work. The information and knowledge that she provided was very beneficial to students and she shared it in a workable and effective way. The workshop was conducted by her in an interactive manner and the style was experiential. It involved simulations in the form of games, skits, role plays. Individual and group behaviour was observed and debriefed. Students were asked to comment on their observation and thereby driving them to have their own "ah-ha" moments. Students were very responsive to all the simulations, and enjoyed her style of training. Her style was new to them and they fairly loved and their huge participation made them experience lot of changes within.

Darshana Ghag
HR at Markoline
I have known Vasundhara for around 5 years. We first met when she was a consultant recruiting for Rhenus Prolog Logistics, where I was working in HR & used to coordinate with her. Over the years I got to know her better even after I left the company. I got to know about her love & passion for Training & am thoroughly impressed with her people skills which have helped her in her role as a trainer. I wish her lots of love & luck for a fantastic future.
Ritika Bajaj
Editor at Common Sense Living
Vasundhara is an extremely talented and committed individual. She has a great command over her domain of expertise and can apply it to a wide spectrum of people. She created a positive impression on our young minds when she came to VIDYA to train them. Vasundhara has always been prompt and efficient in her commitments. She is easily approachable and always willing to go that step further in her work. She stays connected and follows up on even small issues. I wish her the best in all she does and look forward to more interactions with her.
Gopalakrishnan R
Co-Founder at Web Vriksha
Vasudha's innate ability to understand people and connect to them makes her stand out from other trainers. Her sessions are unique in that they are not s mere display of jargons and text book knowledge but more experiential. It is not a simple task to enthuse the audience and effect a change in their outlook but Vasudha achieves that quite effortlessly. She has the versatility to adapt to any given scenario and produce content to suit them.

Prashant Amritwar
QUALITY
Vasudha has the best combination of practical and theory in her sessions which reflects in the teams work style which becomes more positive approach.
Amit Joshi
Enablers bss
Vasundhara is a very enthusiastic person and put all her efforts into whatever she is doing. It makes her an extremely reliable professional who you are sure will deliver the best results. Effervescent. Enthusiastic. Energetic.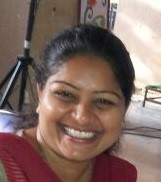 Vanessa Dias
Training Manager at HTI pvt ltd
Vasundhara has a great attitude towards her role as a trainer. Always able to engage her trainees, and it doesn't just stop there. There is a high level of professionalism in her approach. By far, one of the more competent and energetic trainers I have worked with.
Ashish Babtiwale
Director - Pharma Operations at VIRCHOW
I happen to hear about her work from my business associates which really speaks about her network, word by mouth credibility and personal touch. on the job I find her using emotions and putting a good humour and energy which helps in recall during her group training programmes. she is well prepared and certainly wish that for good training in motivation and few other soft skills one should use her experience. all the best vasundhara.